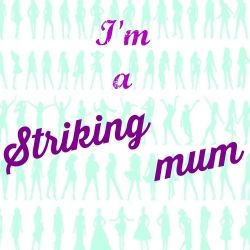 Happy Monday Everyone
I've joined Kate over on Kateonthinice.com with her new initiative Striking Mums to help women work together and support each other. Whether it be with their personal lives, self esteem or want to achieve something great this group of people are aiming to assist in making you feel supported offering advice where ever needed!
The first weeks topic is "What is it you wish to achieve?"
Well it's a very simple question but a not such simple answer from me. If you read my blog regularly you may already know that I have a 24 before 24 goal list( if you don't check out the tab at the top of this page!).
I am learning to accept I need time to achieve superficial but yet still personal goals; knowing that I am not just a mum. I want to learn to accept who I am. I want to manage my lifestyle and find the right balance with all aspects of life. Sounds vague? I know. And I'm sorry. But maybe I shouldn't apologise?
Who knows. Who. Knows.
My name is Carla, I'm a Striking Mum and I don't want to be subject to stigmatisation any more.
xx